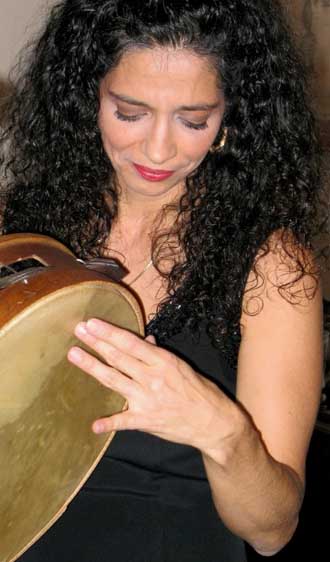 Roving Classical Commedia University*
Guest Artist & Teacher
Michela Musolino
Michela is a Sicilian-American folk singer known internationally, who specializes in the traditional and contemporary music of Sicily.
It's an artistic and cultural work based on the timeless and enduring music which is filled with the emotions of life. Some of the tracks from her first CD, Songs of Trinacria, have been played on radio stations throughout the USA and Europe such as: All Songs Considered Open Mic on NPR and Paul Sherratt's Global Jukebox on the BBC. Her music was included in Anthony Fragola's film, Un Bellissimo Ricordo/ A Beautiful Memory, a documentary on the life of noted anti-mafia activists Felicia Impastato and her son, the legendary Peppino Impastato. Her songs have also been included as the soundtrack for the 2009 premier of Terranova at the NYC Fringe Festival. Terranova, a theatrical production, recounted the controversial court proceedings regarding the murders committed buy the 16 year old immigrant, Josefina Terranova.. Musolino has performed live in the US in such venues as the Rainbow Room at Rockefeller Center and St. Mark's Church in the Bowery and in Italy as a repeat artist at the Event in Memory of Pino Veneziano, the annual summer cultural, musical and artistic festival in Selinunte, Sicily.

Musolino contributed a track on the compilation CD , Di Questa Terra Facciamone un Giardino, in honor of Sicilian singer-songwriter, Pino Venenziano. Also noted are her appearances in Sicily with the Banda di Paceco, the Palermo Art Ensemble and in NYC with the Tuesday World Jam Band. Michela enjoys singing with her good friends to keep her music faithful to its roots. Recent projects include a performance in Salt Lake CIty, Utah as the special guest of internationally renown Sicilian singer-songwriter, Pippo Pollina at his American debut. Musolino studies and performs the traditional drumming and dances of Sicily and Southrern Italy, having studied drumming techiniques with Roberto Raheli and Vincenzo Castellana. In addition, she is the co-creator of the project, Sempri amMari, a musical voyage across eras and generations in honor of the sea of Sicily, it's resources and it's heritage. The stage performance is by the AcquAria, a musical group Musolino founder with her good friend, folklorist and polystrumentalist, Vincenzo Castellana, and it focuses on the research and performance of traditional Sicilian music to preserve its roots in Sicily.