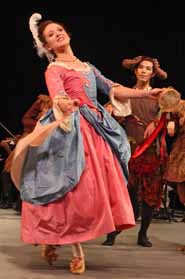 Roving Classical Commedia University*
Guest Artist & Teacher
Meggi Sweeney Smith
The New York Baroque Dance Company www.nybaroquedance.org founded in 1976 by Catherine Turocy in collaboration with Ann Jacoby will have company member Meggi Sweeney Smith join our Summer Intensive as a Guest Artist and Teacher. She will be teaching acrobatics and dances the Commedia dell'Arte actors performed in Northern Italy in the late 1500's.

Meggi Sweeney Smith is a member of the New York Baroque Dance Company, led by Catherine Turocy. She also studied with Lieven Baert at the Stanford Historical Dance Week. In addition to teaching private classes in the Baroque period, Meggi just finished teaching workshops in Basics, Ornamentation, and Improvisation and Notation/Reconstruction at the Mark Morris Dance Center. Her interests have also extended playing the piano, flute, tumbling, and participating in madrigal and theater works.
She studied at the University of Kansas where she received highest honors for her BFA in dance and a minor in music. While there, in addition to modern, ballet and East Indian, she studied Renaissance and Baroque reconstruction and notation, performing group and solo works for concerts and lecture demonstrations. She received the School of Fine Arts Collaborative Initiative Award and Undergraduate Research Award for her dance research in historic fields. Meggi also received Honorable Mention for the Sara and Mary Edwards Paretsky Award for Creativity in her curriculum for teaching music through dance. She began dancing at the age of ten in her hometown of Carrollton, Missouri.
A personal note: Catherine Turocy, New York Baroque Dance Company was one of the very first companies to order Commedia dell'Arte masks from Stanley Allan Sherman when he first started making them in the mid late 70's. Some of the female masks that we use today were originally designed for Catherine Turocy's company. It is a pleasure to have a member of her company again join RCCU as a guest artist and teacher.
To contact Meggi Sweeney Smith dance@meggisweeney.com
To contact RCCU* il-dottore@commediau.com